RBMBLA Multiple-layer (5-9 layers) Coextrusion High Barrier Blown Film Line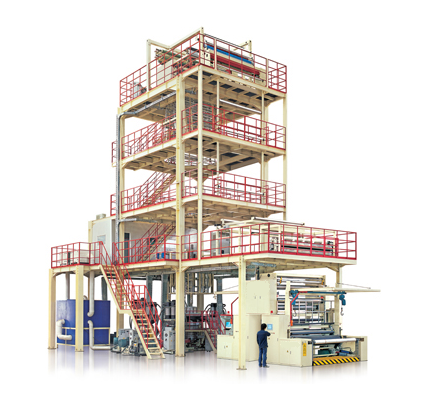 Since screws and die head of the RBMBLA line are specially designed for processing gas barrier resins such as PA and EVOH, this line is mainly used for producing various specifications of five or more layers film which can meet the demands for gas barrier (O2, N2, CO2…) for the purpose of refreshment, preservation, sealing and shelf life extension.
The whole line is designed in a modular idea that is making it easier for processing different resins, formulas and new products.
Precise layer ratio control system makes it possible to save expensive resin while ensuring the barrier function.

Auto gauge control system equips with closed-loop control system consisting of inline thickness measurement and automatic die head (automatic air ring) for automatic detection of film thickness and control.

The centralized computer control system controls the temperature, rotating speed, pressure, wind speed, haul-off speed, tension and line speed with the digital communication network, displaying and monitoring temperature, pressure, current, voltage, tension, speed, film length and other parameters. The system also has functions of automatic alarms and can run a self-diagnosis routine.

 
Main Specifications:
Model

 

RBM5BLA-1300QL

RBM7BLA-1500QL

RBM9BLA-1300QL

Layers

 

5

7

9

Max. Film Layflat

mm

1200

1400

1200

Film Thickness

mm

0.045~0.20

0.05~0.20

0.05~0.20

Max. Output

kg/h

250

350

400

Resin

 

PA, EVOH, PVA, mLLDPE, LDPE, EVA, etc.

Screw Diameter

mm

ф60/ф50/ф50/ф50/ф60

ф65/ф55/ф55/ф55/ф65

ф50×9

Screw L/D Ratio

L/D

30:1

Max. Screw Rotating Speed

r/min

70~120

Main Motor Power

kW

30/20/20/20/30

37/22/22/22/22/22/37

30×9

Bubble Cooling Type

 

Dual-lip automatic air ring(working with inline auto gauge control system), IBC(Internal bubble cooling system)

Oscillating haul-off Type

 

±360°Horizontal oscillating haul-off unit

Haul-off Speed

m/min

45~120

Total Power

kW

265

360

400

Overall Dimension (L×W×H)

m

15×13×11

16.5×9×12

15×13×11

Total Weight

t

35

50

55
All the above specifications are for you reference only. Please contact us for more details.